WEIGHT PER CASE/BAG: 22 lbs
CASE/BAG PER PALLET: 54-66
SIZE:4/5 OZ, 7 OZ, 8 OZ, 9 OZ, 10 OZ, 11 OZ, 12 OZ, 14 OZ, CHUNK 2.2 lbs X 10
DESCRIPTION: Unagi is Japanese for freshwater eel and it is common in Japanese cooking. Unagi is typically filleted, grilled and brushed with sweet soy sauce reduction. Unagi is often served on rice or sushi rice.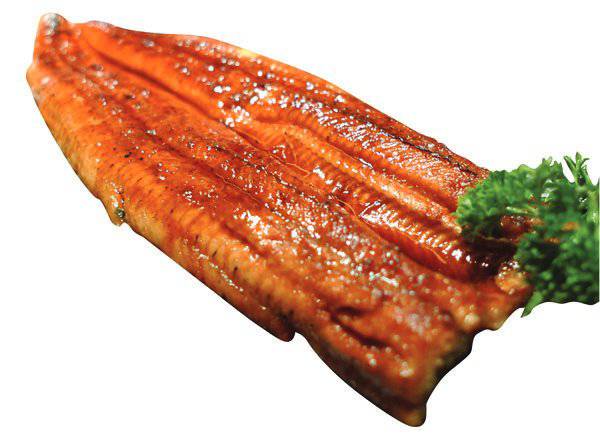 鰻魚,別名白鰻、河鰻、鰻鱺、青鱔、日本鰻。又稱鱔,是 一種外觀類似長條蛇形的魚類,具有魚的基本特徵。此外鰻 魚與鮭魚類似具有洄游特性。鰻魚屬魚類,似蛇,但無鱗,一般產於鹹淡水交界海域,人工養殖較多,肉質鮮嫩。此魚 一年四季皆常見,但以夏冬兩季最為肥美可口。鰻魚營養豐 富,味道鮮美,並具有清涼解暑、滋補強身的作用。